Boat - Yacht – Jet Ski - marine protective film vinyl wrapping by Venture shield

Following extensive testing in Europe, VentureShield is now being used in increasing quantities by Boat and Jetski manufacturers and their customers. VentureShield has huge benefits to boat owners as it can drastically cut the amount of time the boat is out of the water for essential maintenance and repairs.

VentureShield can be used along the entire waterline of the hull to stop algae and other discolouration taking place. At the end of the season, when the boat comes out of the water, the film can be simply cleaned or removed to reveal a clean hull underneath. New film can then be applied.

Other areas on the deck can be fitted with VentureShield. Entrance ways or areas that might get kicked, scraped or scratched by visitors coming aboard. If the boat is large enough to have a platform at the stern to take jet skis etc., these areas can also be protected.

Smaller boats and jet skis that are towed behind a vehicle can also be protected against rubbing from the trailer or being sandblasted etc.
Frequently Asked Questions:

What is VentureShield?

VentureShield is the toughest chip protection film on the market. Combining excellent elastic properties and optical clarity with a high shear and tack adhesive, VentureShield is twice as stone resistant as the leading competitor.

Will it diminish the appearance of my boat?
VentureShield will protect your boat for years and whilst remaining virtually invisible.

Does the VentureShield need any special care?

No, you merely continue to wash and wax the VentureShield as you would the rest of the boat

If I sell my boat oe jet ski can the VentureShield be removed?

Yes. VentureShield uses a patented acrylic adhesive which can be safely removed without residue, leaving your boat or jet ski looking as great as the day you bought it!

Call Peter to find out more or book an installation or DIY supplies
01227 772696 Mob: 07900 332303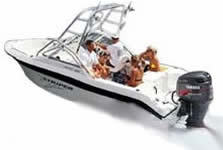 JETSKI STONE CHIP PROTECTION
This product was developed for the US military to protect helicopter rotor blades