VEHICLE WRAPPING
What product does this riddle describe? It's noticeable, consumes vast amounts of vinyl and requires large resources of time, money, equipment and skill to produce and install.
Car advertising vehicle wraps. The full-color, full-page car wrapping of the vinyl's digital-printing era, they can attract radio and TV station managers like lawyers to a vote-recount. The giant car wrap adverts, self-adhesive, color brochures stretch the imagination of vehicle graphic designers.
Vehicle graphic wrapping are extremely cost-effective signs. They communicate rapidly and legibly with written or graphic representation. However, a vehicle wrapping must present a favorable impression of the car advertiser, and convey a benefit to viewers. If an advert fails these objectives, it's of little value.
Making vinyl eye candy
The first virtue of vehicle wrapping is visibility -- they are likely to get attention. Vehicle wrapping make great "brochures," as long as viewers have sufficient time to review an offering's benefits.
Effective car wrap advert design is achieved through simplicity, clarity, crispness, balance and punch. How many car adverts have you noticed that failed to convey a simple, clear message? Does the advert convey value to viewers or does it just shout, "Notice me!" like a commercial that entertains without leaving a meaningful product message?
Vehicle wrapping requires good handling. The material must fit the vehicle's contours and retain its good looks long-term. Considering production costs, buyers expect it to retain shape and color for years, unless they can afford to have vinyl frequently reapplied.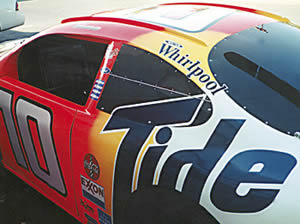 The Tide racecar is decked out in a combination of super graphics, a modified three-tone paint background and sponsor decals.

Vehicle manufacturers typically experiment first with low-adhesion paints on white vehicles. These types of paints increase the probability of film separation from the paint surface, making extra preparation and proper vehicle wrap film selection even more crucial for durability. With rougher surfaces making adhesion more difficult, expect paints to be even less workable in the future.
Easy removal of a car wrapping depends on your skill, supplies and equipment, plus the type of film you're using.
Vehicle wrapping will likely continue to grow in popularity, with sales of larger equipment, improved production, printing methods and expanding uses for these products. Attention to the message's effectiveness, film selection, surface preparation and proper application are essential to the success of
car advertising.